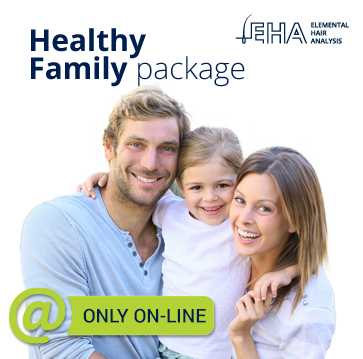 What's included?
Three EHA elemental hair analysis tests at a promotional price
Consultation of the child's result at a promotional price

SEE AN EXAMPLE OF AN EHA TEST RESULT
save: 227 USD price: 526 USD 299 USD
&nbsp
&nbsp
By buying a Healthy Family package,you're looking after your health and that of your loved ones!
You can PERFORM AN EHA ANALYSIS FOR YOUR FAMILY AT A GREAT PRICE AND CONSULT THE EHA RESULT. The consultation will allow you to discuss all its components in detail, and dispel any doubts you have about your child's health.
Check for element deficiencies in your body. Be sure to note their proportions. Find out what to do to balance them, and make sure you have a proper diet and supplementation. Choose only high-quality products.
Promotional package price: 399 USD
Regular package price: 507 USD